Caring for your boat…
When it comes to boat detailing the exterior, interior care, and maintenance, boats are very different from cars.  Boats lose their value faster than any other vehicle, one because the owners are not taught how to properly maintain them and secondly the elements here in Utah are havoc to their gel-coat, vinyl, carpets, plastics, wood, chrome, and fiberglass. The high UV radiation of Utah's elevation is a leading cause of damage. Today's boats are very expensive, and if not taken care of properly, they can be super expensive to fix. In many cases, prevention is far cheaper than repair! I have the skills, experience, and products to care for your boat. At a minimum, you should get Reflections Detailing boat detailing service done once a year.
As you can see, a boat's finish will dull (oxidation) over time, with proper yearly care you can keep the shine, protection, and new look.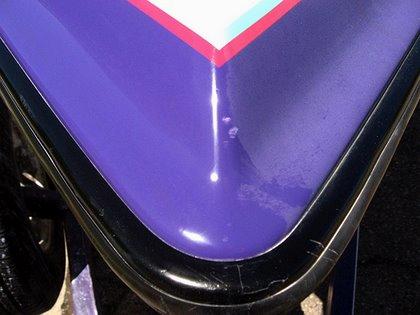 Look at both sides of this bow – the right side is horrible with oxidation; the left is polished out and ready for a sealant.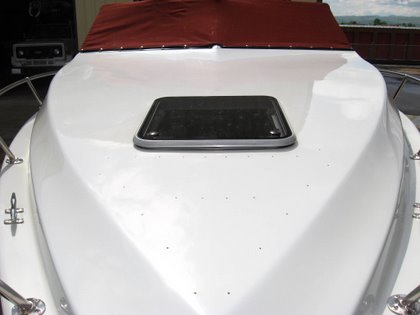 Even white gel coats will glow! Better yet they are ready to inhibit UV rays that will destroy a boats gel coat.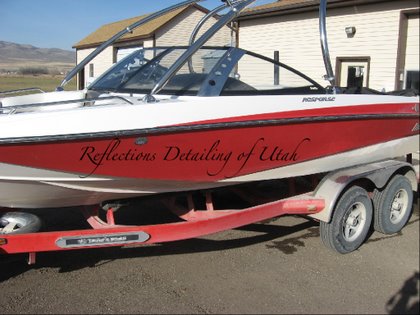 Hard water buildup, oxidation, and no UV protection. This needs the full package detail!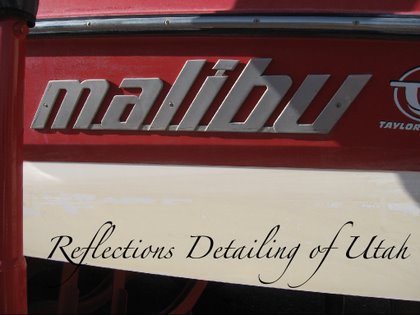 You can see closely the amount of hard water build-up, and the total lack of shine and gloss.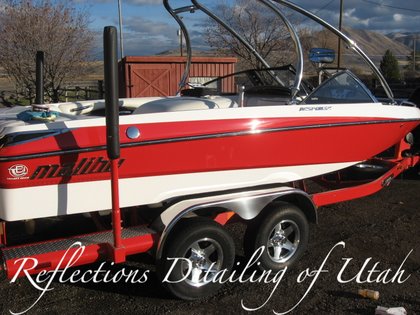 This is how the boat should look! This is before any gel-coat wax/sealant was used. Almost ready to hit the water in style.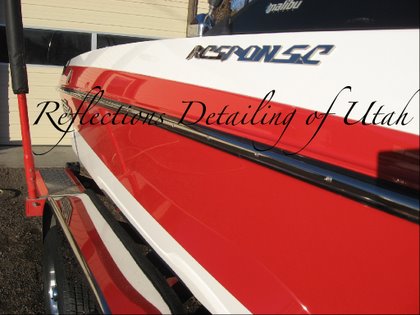 Close-up shot of the level of shine and gloss.
You can clearly see the detail of care in this transformation. Compare this to the before picture.
Boat detailing services include:
Wash and shine

Gel-coat cleaning (hard-water removal)

Oxidation removal

Boat specific waxes or sealants

Interior cleaning

Vinyl cleaning and restoration

Metal restoration and polishing

Wood restoration and cleaning

Stain reduction/removal

Increasing the UV protection of surfaces

Glass Polishing and Protection

Canvas cleaning and UV protection

Wet sanding techniques if necessary
Exterior recondition work:
Wash and wax (no polishing) ………………………………………………………10/linear foot

Wash, wax, and light polishing…………………………………………………..20/linear foot

Wash, light – heavy oxidation removal, polishing and waxing………23-30/linear ft

Hard water/scum removal……………………………………………………………..20/linear foot

I use products that are made for boats so you will get the greatest protection for your money.
Interior work and protection:
I will discuss with you, your opinions and match them with your desires for a clean, and UV protected boat……………………………………….. Start at $175 for interiors

It is vital that your interiors are UV protected YEARLY to inhibit expensive rotting

Other services vinyl cleaning, carpet cleaning, water spot removal………
*If the boat has a deep hull the cost will need to be adjusted for the increased amount of surface area.
Some additional informative photos