Car Detailing Services
Reflections Detailing of Utah offer a wide range of car detailing services from your basic wash to your concourse prep package.  Schedule your detailing package today!'
Introduction exterior detailing protections – Starts at 175$*
Hand washing and drying using methods to reduce marring to finish
Clean wheel faces
Clean tires
Dress Tires
Clean exterior glass surfaces
Apply a durable paint sealant for months of durability
Introduction interior detailing- starting at $175*
Deep dry cleaning of carpets with vacuume and forced air
Shampoo extraction and steam-clean the carpets and floor mats
Clean and wipe down hard surfaces
Leather or Fabric seats steamed or shampoo extraction
Interior glass cleaned
Door jams cleaned
Mini Detail- starting at $175.00*
Hand wash and dry using non-scratching techniques
Vacuum interior carpets, floor mats, and upholstery
Clean glass and mirrors inside and out
Wipe down dash and console
Clean wheels to remove basic brake dust/grime
Dress tires
Wipe and clean door jams
Deodorize interior
Premium Detail – starting at $275*

this is a perfect spruce up for a maintained vehicle.
Includes Mini detail plus:
Clay detailing; paint contamination removal for a smooth surface
Hand wax/sealant
Dry steam cleaning of carpets
Ultimate Detail – starting at $475*
Includes Premium detail plus:
Treat and protect console and dash with UV protectants
Extraction shampooing of carpets and floor mats to remove basic soiling
Remove light paint swirls which will greatly improve the shine of the paint
Dress and protect all exterior rubber and vinyl trim
Alloy/Chrome wheel faces cleaned
Pinnacle Detail – Starting at $600*
Includes Ultimate detail plus:
Clean, treat and protect engine hoses and plastic
Alloy/Chrome wheels polished and protected with wheel sealant
Wheel wells cleaned and dressed
Wheel barrels cleaned (wheels on)
Paint gauge used to ensure the integrity of the paint
Deeper polishing steps to achieve depth and gloss of the paint
Total Paint Correction and Custom Work- $ 750+
Flawless paint reflections are achieved at this level of work.  This level of detailing is where specialized media compounds are used to systematically remove microns thick of paint to level out the deeper swirls and imperfections.  It's at this level of workmanship that truly makes the largest difference in the appearance of the paint.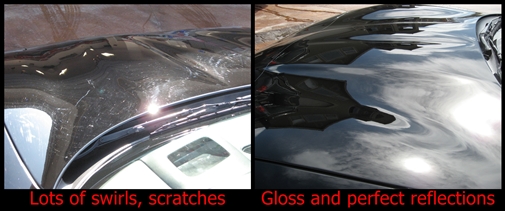 This service is for the highly discerning owner. Paint corrections are highly detailed services where the owner and I will work out a plan to work towards perfect paint reflections. Most detailers cannot even dream of this kind of craftsmanship, a service for the owner that wants the best looking car reflections in the state of Utah. This service is charged by the hour, most paint corrections take a minimum of 10 hours.
Concours Car Prep Package – $ 75/hr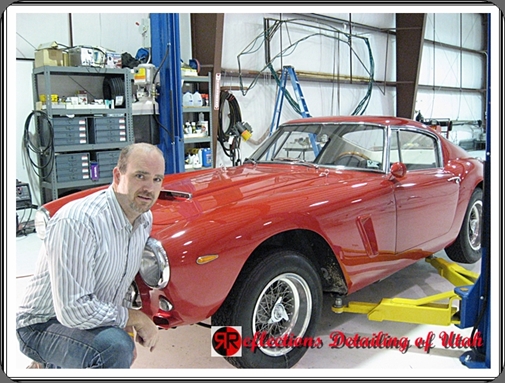 Customized package …cars perfection per owner's preferences and car needs. All possible techniques and materials used to create a truly high-level detail worthy of winning the best in show. All the skills of a high-class detail will be used; every nook and cranny will be worked on. The paint will be worked to a flawless finish. Please note this level of detailing can require 20+ hours of workmanship.
Individual services, upgrades, and extras
Engine detailing…………………………………………………………..50
Deep Carpet Cleaning (multiple cleaning added)……………….50 – 150
Leather care (using Leathermaster or Leatherique )……………30 – 150
Convertible tops clean, protect and H2O repellant)……………75
Tonneau truck cover polishing……………………………………….60-75
Multiple layers of wax or sealant price/layer……………………..20 – 60
Deep cleaning of wheels/rims (wheels off service)……………60/hr
Removal and storage of excess personal items…………………..40
Very dirty interiors and muddy exterior vehicles…………………50/hr
* Prices are subject to an inspection of the vehicle and based on condition and size. Prices listed are for in the shop, mobile prices are higher and mileage has to be considered.
Extra soiled interiors will be charged extra for the time involved
Removal and storage of personal items can incur additional charges
All prices will be quoted at the time of detail before work begins
Full Payment is due before keys or vehicle are returned
Areas of service:
Logan, Cache Valley, Brigham City, Ogden, Layton, Centerville, Clearfield, Farmington, Kaysville, Cottonwood Heights, Holladay, Bountiful, Salt Lake City, Sandy, Draper, Jordan, Utah County, Salt Lake County, Alpine, Highland, Lehi, Orem, Provo, Spanish Fork, Park City, Heber, Jackson Hole, Preston, Pocatello, Idaho, Canada, worldwide